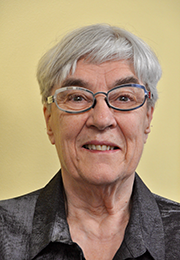 Planning is underway for the 2nd TEDxEdina happening January 21, 2017! One of the main priorities for the organizing committee is to bring you great speakers. We are so excited about our line up and will be revealing each one of them in the coming weeks.
Our first introduction is to Susan Clarke. She has a very unique story to share, and one that is an
ultimate example of learning from history. Susan was born in England just prior to the start of World War II. When she was just 2 years old, the village where she lived was bombed, leaving her home uninhabitable–no ceilings, windows, water or electricity. Looking back, she has identified the various and complicated ways the bombing affected her life. She has spent much of her adult life seeking to understand those effects and wants to share her story with TEDxEdina. In her words, she feels people "do not have a language to discuss the war". She aims to encourage real dialogue to lead to real change and the ultimate goal of peace on earth.
With stories emerging daily and becoming commonplace, Susan wants people to understand the damage being wrought on everyone, from the children living in the cities under attack, to those in charge of flying the drones. In talking with Susan, one can feel the raw emotion of bewilderment of how anyone can believe bombs can solve problems. She is truly capable of putting herself in the children's shoes and seeing war through their eyes. Her hope is for the listener to gain a deep understanding of how irrevocable war is, how damaging bombs are and how imperative it is to solve problems without either.
Her life experience has been vast–living in England, Greece, Sudan, California and now Minnesota. She has also held several different positions–selling art, authoring a text book and counseling in a children's hospital. She has described herself for much of her life as "a square peg in a round hole". Today, Susan finds joy working with people as a chiropractor in St. Paul. This is her contribution to her dream of world peace, one body at a time. She describes her work as helping people create peace in their bodies, to properly function in the world.