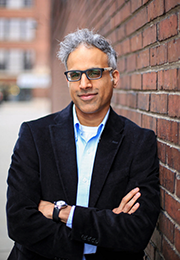 Through his professional and personal endeavors, Vikas Narula is making an impact and quite clearly living out his favorite quote:
"Don't ask yourself what the world needs. Ask yourself what makes you come alive, and go do that, because what the world needs is people who have come alive."  -Howard Thurman
Vikas is passionate about entrepreneurship. He's a business co-founder, a blogger, a teacher, a husband, and a father. These accomplishments
are just a few of a growing list he has pursued in his lifetime. Some may consider Vikas a lifelong learner, but his perspective is that he is simply allowing "the quiet whispers of his heart" to be heard. He has a hidden desire to express himself in creative art mediums through blogging, exploring the visual arts, and is currently learning more about Eastern Devotional Singing, including how to play the harmonium. Rather than learning more about these with his nose in a book, you will likely find Vikas conversing with people he meets while trying new experiences and exploring communities outside of his own. Through his upbringing and education, he recognizes the foundation was established to allow conscious thought toward his creative curiosity.
Vikas' parents emigrated from India to Canada, where he grew up until age 11. His family then moved to Fairfield, Iowa, drawn there by the Maharishi school and community. At 24 he moved to the Twin Cities and established the area as his home, along with his wife, Priya, of 19 years, and their 2 sons, Nayan and Ishaan. He put in his time working the grind and, after earning his MBA from Duke, he successfully flexed his entrepreneurial muscle as a co-founder of Keyhubs. Through self-employment Vikas gained more control over his own schedule and found the ability to naturally open his mind to the "messages springing forth" from his heart. Whether he has a few moments while in traffic or outside walking his dog, he effortlessly listens to the questions or interests that surface in his mind, giving time for recognition and exploration.
He has found the Twin Cities to be a great place to live at every age, and enjoys the seasons and the way the lakes, trails, and green space weave their way throughout the city. This winter you may find him playing pond hockey, a throwback activity to his childhood and something he finds "sort of cool and story-bookish". Vikas comically draws parallels between entrepreneurship and parenthood, while maintaining striking affection for his roles as both a father and a business owner: both entail hard work, priceless moments, enriching experiences, second guessing of decisions, and constant progress.
He has found himself at home in Minnesota because of the nice people and the overall community conscientiousness of making the world a better place. As a contributing member of that community, we're excited to welcome Vikas to the TEDx stage in January!
Cordially,
Amber Rourke