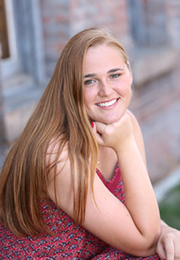 Getting to know McKenna Knapp was a refreshing way to start 2017. She is already a very accomplished senior at Edina High School, and yet, my mind's eye had a vision of a young lady with the world at her feet.
Currently McKenna is on winter break, but staying busy preparing for DECA districts. She's involved with several other clubs, teams, and organizations centered on not only being helpful to others, but also activating her peers to create a more positive community. One of the groups she helped create, called The Buzz, is a
school spirit club including and encouraging everyone to attend at least three events per team. Armed with posters and megaphones, spirit captains coordinate attendance through group texts and twitter announcements, to rally support for sport, academic, male, and female teams. When asked about inspiration toward being an involved member of her school and community, McKenna mentioned her parents, Lindsay and Sarah. Her father played professional football, motivating her to play Lacrosse- a sport she "loves, because it's just fun", and her mother previously co-chaired the Edina Education Fund, which McKenna now serves on.
Impressed with her time commitment toward so many groups, I asked what keeps her spirits high and heart happy. McKenna recognized that she is very driven and self-motivated, but that her family plays a huge role keeping her positive. She believes in being someone her younger brother and sister, Thomas and Riley, can look up to; as well as, for herself, someone a "younger me can be proud of". Last but not least, her family would not be complete without mentioning her two dogs, Jersey and Lambeau.
McKenna is a reader, enjoying the story and the opportunity to travel to different places with the characters. Some favorites include the Harry Potter series and Miss Peregrine's School for Peculiar Children, but she finds herself able to fall in love with whatever book she is reading. Through her time spent on the MN Lakers Select lacrosse club team, it was McKenna's turn to travel the world. She was able to visit a handful of states such as Virginia, Florida, and North Carolina, and last summer travelled to Scotland for the U18 International Lacrosse Festival. Her favorite part of that trip was climbing up to Arthur's Seat overlooking Edinburgh and meeting other teams from Korea and Wales, and learning about their traditions. If she were to choose a next trip, it would be to explore her heritage in Ireland and England.
When asked about what's next, McKenna has plans to attend college and study business marketing and/or entrepreneurship, possibly working at a non-profit in the future. She enjoys the creative process of brainstorming- using large white paper and markers as she generates ideas and takes them to action. This driven, organized, busy young lady is already making a difference in the world around her and with future plans spoken of with an energized ease, look forward to hearing from McKenna Knapp on January 21st!
Cordially,
Amber Rourke