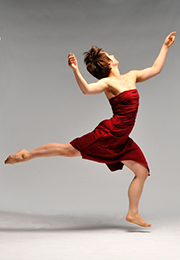 Nick + Maggie = Collaborators In Music, Dance, Love, and Life 
While not always working together on a daily basis, Nick and Maggie usually have something in the hopper to merge their creative talents. They have known each other for nine years, been dating for eight, and married for five. They started their family with their dog, Sergeant Pepper and today have a 2½ year old son named Gus. The humor and heart of raising Sergeant Pepper and Gus, is what keeps them grounded and fresh as they navigate their way as individuals and as a team.
Maggie grew up in a small town feeling like an outsider, searching for an outlet for her love and talent for dance. As a self-described "intense child", she began writing to boarding schools when she was in 7th grade, seeking the type of training she could not find in her hometown. At 16, she sent off written and video applications for boarding schools and was accepted at the Interlochen Arts Academy in Michigan. Maggie spent her junior and senior years of high school challenged with high quality academic course work while dancing for 5-6 hours a day. She finally felt at home in a community of artists, in an environment that fed her passion for dance, learning and growing in a space that truly shaped her life.
Nick always knew he had a passion for music with the ultimate dream to be "a world famous bass player". His love for bass was so clear, that he doesn't remember a time when that wasn't at the forefront of what he wanted. Nick was fortunate to start with a string program at his elementary school and his love for playing led to conser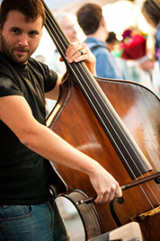 vatory training. This type of education was not a decision to be made lightly, but with Nick's desire to play, there was no other choice to be made. Beyond his training, he has "always and throughout his profession", found his aspiration to be "evolving, shifting, and changing."
While both impressive in their training backgrounds and professional careers thus far, they recognize each other's distinct strengths. Maggie has a more technical viewpoint from studying "the moving body as text" and employing intense critical thinking toward her craft. Nick spent time playing and perfecting his technique with an approach of "be the best you can at all costs". When they work together, Nick's strength is in the creative, idea generating aspect while Maggie brings focus and refinement to a meeting point where their crafts have "beautifully collided". The path to this magnificent crossroads comes from not only the mix of their strengths, but also the teamwork required to push and pull each other through internal conflict and when their visions clash. As Maggie says, "Not everything is sunshine and daisies", and they recognize that as part of the process, failure should not only be expected, but welcomed.
Now both teachers, learning how to fail is one of the critical lessons they both teach. As Nick and Maggie have each progressed from their initial art forms, their experience allows them to construct classrooms of trust and collaboration. They implement structure within the classroom to help build relationships with and among their students to establish a safe haven of exploration. By modeling the belief that everything is an experiment, true learning is attained as they talk about why something didn't work, focus on the strengths, and come back to what's next. Nick and Maggie will kick off next Saturday's TEDxEdina by creating space for their respective students to collaborate and share a beautiful collision of the arts.
Cordially,
Amber Rourke