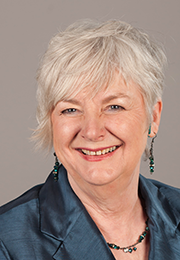 Linda Hutchinson has been humorous since the fourth grade.
Conversing with Linda was easy and fun and centered a lot about her purpose in contributing positively through humor and play.  While her path has taken her through times of holding a more serious contentment; for the past 25 years, she has been educating people about humor.
Growing up in the small town of Hayfield, Linda recalls having a full and enriched childhood that included extended family nearby.  She admits there were times of challenge, but overall, life was happy in her fun, funny family.  In a comical similarity of names, Linda came from Hayfield and now lives in Richfield.  She enjoys having her son Jesse nearby while he attends the University of Minnesota, majoring in aerospace engineering.  She is very proud of his achievements and equally as tickled to spend time with her grand dog, Twitch.
When asked about times of challenge or being serious, Linda references her teen years, or while in relationships, in those times wanting to be liked by others and not effectively using humor and play as tools she could use in building those
relationships.  Linda has spent most of her life in Minnesota, but did live in San Francisco for one year as she co-authored the book, Teaching Human Dignity: Social Change Lessons for Every teacher.  She also spent time working for the Education Exploration Center where she worked on newsletters and coordinated conferences.  These were more solemn seasons of her life, when she didn't use the ability of laughter and play but rather was very serious and "gungho" to change the world.
Linda returned to Minnesota for a few reasons including the changing seasons, the sense of community she had already established, and the way Minnesotans look out for each other with determination to get through the harsh winter months.  She worked for the Wilder Foundation including the Wilder Forest Camp and Conference Center before being laid off around 1993.  She was able to spend a summer away, building and working on her own company, Hutchinson Associates, before taking the full plunge of working for herself.  Her purpose has been educating people about humor, team building, leadership, customer service and play for the past 25 years.  At the time, she initially viewed obstacles like being laid off as a negative setback, but looking back she said those occurrences have "catapulted me into the next best thing".  Through this reflection, she has realized her overall stance of positivity, of being a courageous risk taker who is "always evolving" and by "seeing that historically, (she) can keep doing that".
The question begged to be asked, if she thought humor could be found in every situation, to which she answered with an equation she had learned along her explorations:  Humor = Tragedy + Time.  To expound, Linda pointed out that sometimes it is humor which can direct us to look at things from a different perspective.  As part of her research, Linda has asked of herself and about humor, "does it lift people up or bring them down, does it bring people together or pull them apart?"  She intends that her work is practical, pithy, and playful. Linda values the power of laughter and play, that it can be a prevailing way to build community across cultures.  Coinciding with that belief, she shared a quote from a well-known Twin Cities comedian, Tou Ger Xiong, who said about humor, "When you can laugh together, you can talk about anything."  In agreement with this principle, Linda persists to evolve in her purpose, illuminating the impact and importance of humor.
Cordially,
Amber Rourke